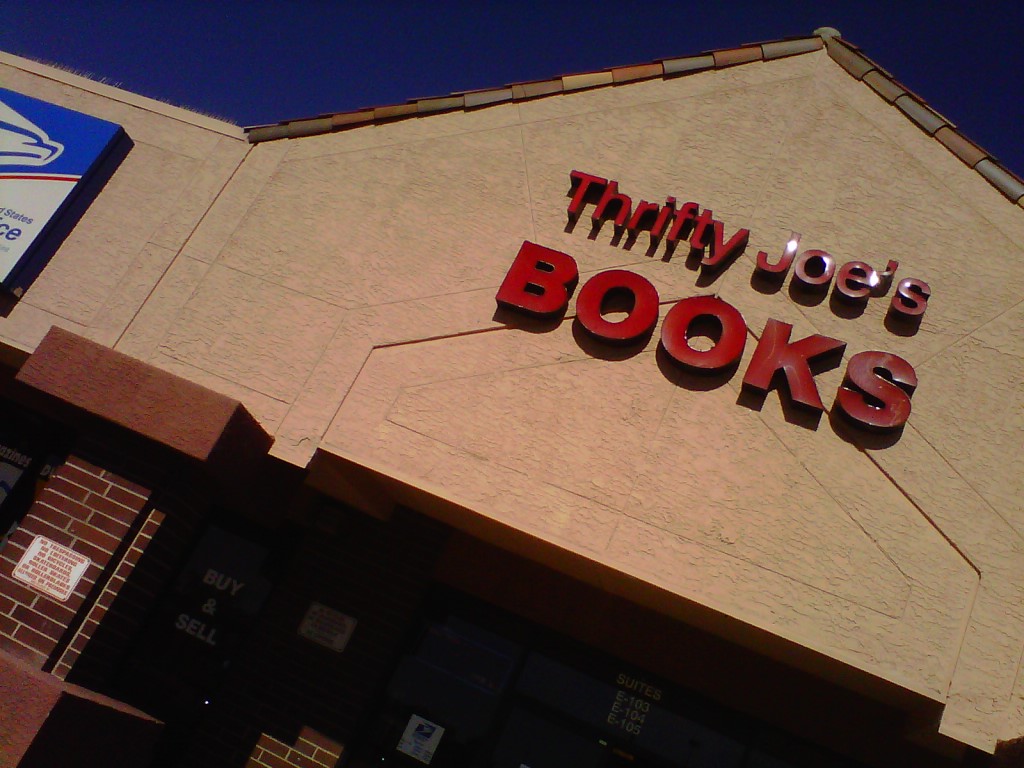 I have to admit, I've got a severe weakness for books. It's always been this way and not even the adoption of a Nook has been able to totally relieve the joy that comes from holding real, tangible, by God paper in my own hands.
There's just one problem with that. New books are bloody expensive, even the electronic versions.
Enter Thrifty Joe's Books, on the northwest corner of 59th Avenue and Bell Road in Glendale. This place has been in business for 20-odd years now, first in a smaller building just across the parking lot (where the Cavalry Church, once an AMC movie theater, now is located) and for seemingly forever in the new spot behind Macayo's.
Since the demise of the Book Den, they're about the only game on our side of town.
Want vinyl records? They've got them. Used video games? Yep. DVD's? Of course.
And then there are books. Hundreds and hundreds of glorious books, from new releases to things your parents may have read back in the day.
There's also a Post Office in the back, which is where I buy all of my stamps. These stamps turn out to be the most expensive in the Valley because, just to the left of the Port Office counter is the history section. And I'm a sucker for history, particularly Civil War, World War II and presidential biography. (Today's flaming political "literature" from both sides of the aisle? Not so much. Give me some time, give me some perspective.)
You also can sell books here though, honestly, the amounts I've cleared have led me either to donate or leave the books on my shelf in hopes one of my kids (or grandkids) will be interested. As it is, my teenagers easily could complete a paper on most American history topics just using my own shelves, assuming I can pull them away from the Google or the Wikipedia on the interwebs.
For more information about Thrifty Joes, check out their website.