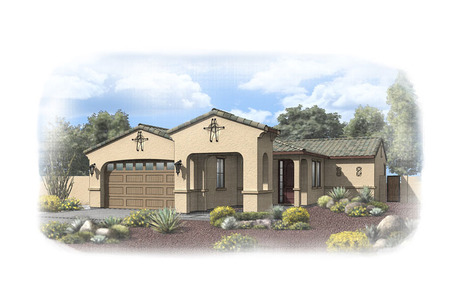 Do you know someone looking to move to Peoria? Or are you simply looking for something a little different now that you've got some equity in your home after the increasing values of the past 18 months?
The Reserve at Plaza del Rio is being developed by Maracay Homes just south of Thunderbird Road off 91st Avenue, which is just west of the Loop 101 in Peoria.
Plaza del Rio is close but not too close to Loop 101, the Westgate City Center, Arrowhead Towne Center and the Peoria Sports Complex. It's also just south of the Rio Vista Community Center and Rio Vista Park, which features fitness equipment, fishing, volleyball, picnic ramadas, a barbecue area and more. Finding a more convenient location would be somewhat difficult.
Plaza del Rio is one of the few communities still under construction in central Peoria; the bulk of new construction is north of Deer Valley Road stretching up the Lake Pleasant Parkway toward Vistancia.
Floor plans run from 1,424 to more than 2,400 square feet and prices begin in the low $200s.
Let me give you the standard disclaimer – DO NOT VISIT THE MODELS without a real estate agent on your first visit. Once you do so, you forfeit your right to individual representation and are at the mercy of sales people who work for the builder and represent the builder's interests, not yours.
Call me at 602-502-9693 or e-mail me at info at allphoenixrealestate.com, and we'll get a time scheduled where either I or one of my buyers agents will accompany to the models and make sure all of your questions are answered. In some cases, we may even uncover some incentives not normally disclosed.
I also can send you a brochure with more information about all of the models.
If you're looking for new surroundings, or you have friends and family tired of weather adventures elsewhere and ready to settle into the desert, the Reserve at Plaza del Rio by Maracay Homes may just be the ticket.