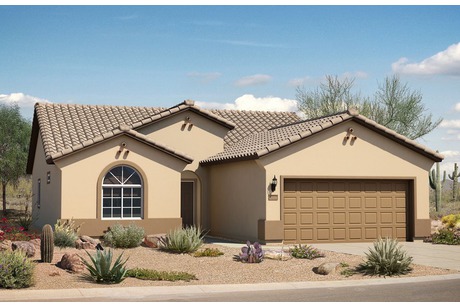 This week, we're taking a look at Pulte Homes' Tierra del Rio community, which is in the midst of its final closeout phase.
Located just east of the Lake Pleasant Parkway and north of the Happy Valley Parkway, Tierra del Rio is conveniently located close to Peoria's Lake Pleasant Towne Center, Lake Pleasant Crossing, Lake Pleasant Pavilions … and Lake Pleasant itself.
Pulte offers eight models in Tierra del Rio:
Ocotillo – 1,446 square feet

Senita – 1,756 square feet
Ironwood – 1,780 square feet
Creosote – 1,897 square feet
Manzanita – 1,983 square feet
Acacia – 2,391 square feet
Sumac – 2,492 square feet
Yucca – 2,693 square feet
The first five are 3-bedroom, 2-bath models with 2-car garages. Acacia is a 4-bedroom, 2.5-bath model with a 2-car garage, Sumac is a 3-bedroom, 2-bath model with a 3-car tandem garage and Yucca is a 4-bedroom, 2-bath model with a 3-car tandem garage.
Base prices start at $186,990 for the Ocotillo and run to $236,990 for the Yucca.
Figuring a 4-percent interest rate, the Ocotillo would be around $710 a month (principal and interest, not including taxes insurance and HOA) with a 5-percent-down conventional loan at base price; the Yucca would be $900 for the same parameters.
The new build route, to say the least, is a much easier way to go these days, particular for FHA buyers, than the resale market with its multiple offers and silly games sellers and their agents are playing.
Want more information on Tierra Del Rio or any of the other new build communities here in Peoria? Call me at 602-502-9693 or e-mail me at info at allphoenixrealestate.com.
And, as always, DON'T GO TO THE BUILDER ON YOUR FIRST TRIP WITHOUT YOUR OWN AGENT!!!